The wine from the most distinguished variety of Merlot grown in the area of Karnobat triumphed with the gold medal in the German wine capital, as the city of Neustadt an der Weinstraße is better known.  The region is the center of the German wine production and a traditional host of the MUNDUSvini International Wine Awards competition.  For fifth consecutive year, the cellar "Minkov Brothers" took the highest honors from this prestigious competition. For the first time, the winery presented before the hard-to-please German audience the unique Merlot of Minkov Brothers - Merlot with intense aroma with tints of black cherry.  It has been produced by following the highest ecological standards and quite deservedly won the admiration of the German connoisseurs who are famous for their healthy lifestyle.
The black cherry aroma is characteristic of the most prestigious wines and is obtained only from grapes grown on the cinnamon-forest soils that are not treated with fertilizers. Such are the fertile vineyards of "Minkov Brothers", where the favorite of the German elite's Merlot is usually harvested. The technologists of the cellar extract the precious scent by leaving the ripe fruit with its skin for 15 days. By the authentic technology, the wine obtains harmonious and piquant taste, richness of flavor and sparkling dark-red color.  The grape for Merlot wine of Minkov Brothers owes its beneficial properties to the unique method for the country - night grape-gathering by hand. The low temperatures naturally cool the bunches of grape to around 10-15 ºC and the grape then enters the cellar without passing through the cooling equipment. That is the best way to retain all precious substances of this grape variety. This is particularly true for the miraculous polyphenols in the Merlot which are claimed to extend life, increase the physical stamina and even rejuvenate the body.  The wine that got the highest awards in Germany is usually left to mature for two years in French oak barrels provided from regions without any industrial pollution. It's not by chance, according to numerous German doctors that the Minkov Brothers Merlot deservedly ranks among the healthiest and most beneficial red wines on the Old Continent.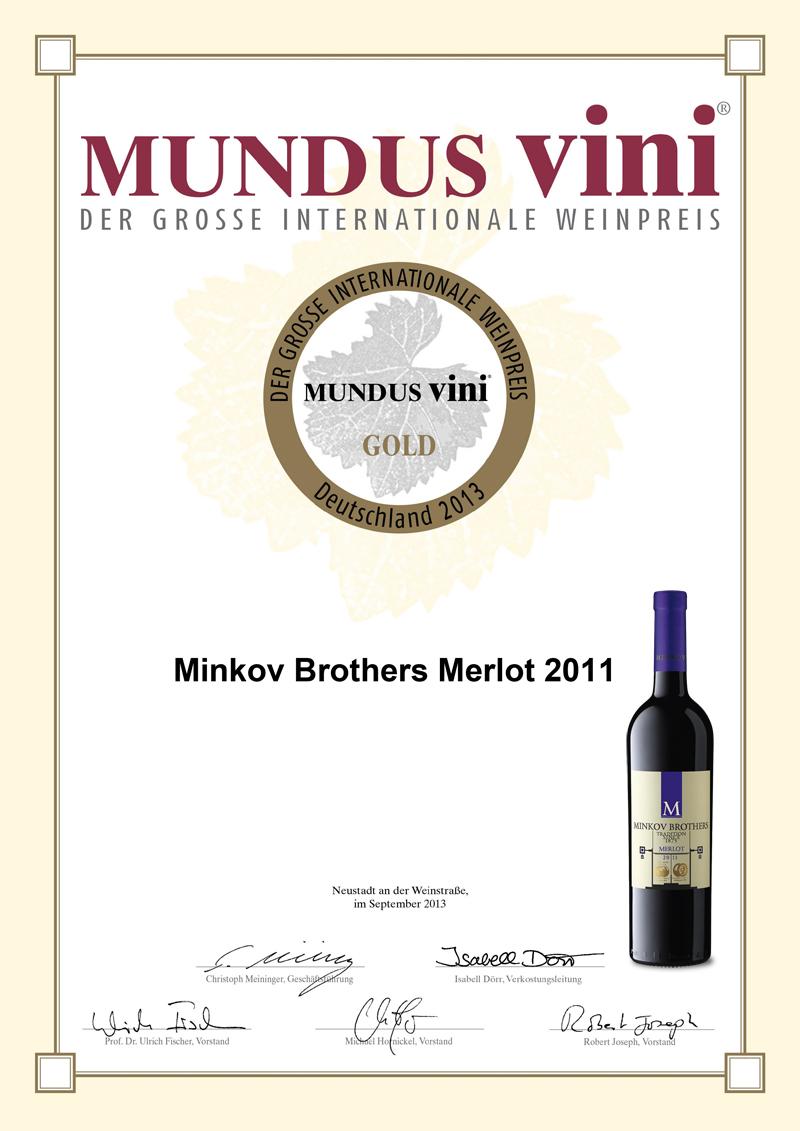 The historic success for Bulgaria on MUNDUSvini International Wine Awards sparked serious interest in the wines of "Minkov Brothers." According to leading German alcohol importers, very soon the gold medalist of this year's exhibition will become a part of the wine lists of the German restaurants and retail chains. The gold medal of the Minkov Brothers Merlot will benefit the Bulgarian economy, as well, the analysts commented.  The wine sector is among the largest employers in the country and when the Bulgarian wines and brandies earn positions on the international markets that mean new jobs, higher incomes and more security for Bulgaria.